You're Missing the Mark, How to Supercharge Your Email Open Rate When Sending to K-12 Educators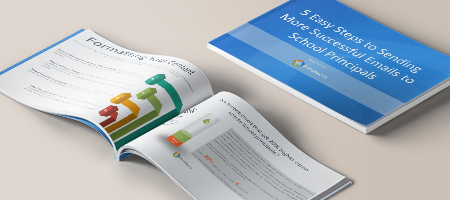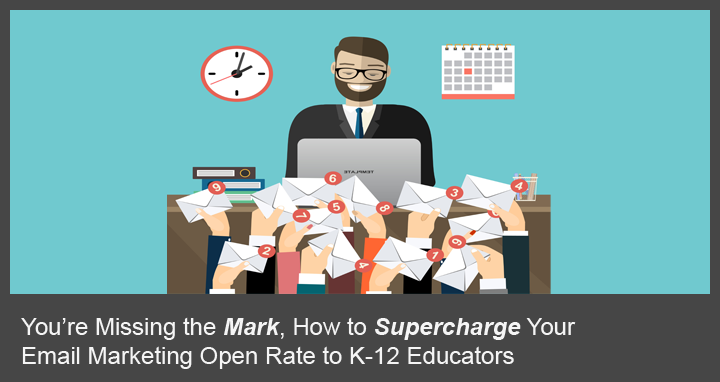 In the business of education, marketing to your potential clients is a must. However, it can be difficult to get the attention of principals and superintendents.
We interviewed teachers and administrators to better understand what type of emails they open and engage with. We combined their feedback with the insight and experience of K12Prospects to develop a step-by-step guide to increase your email campaign open rate.
Educators receive hundreds of emails a week from companies wanting their time, attention and ultimately, patronage. Everything from curriculum subscription services to augmented learning hardware passes through the average principal's inbox. Our research suggests that the majority of those communications are going unopened.
You may wonder why your potential clients would delete so many offers for free trials, amazing results and new products. The truth is that they are inundated with emails and have limited time to review the competition vying for their attention.
The most significant factor in the education sector is value. Principals, teachers and superintendents need to gain optimal value for the time and effort they expend.
Here are 5 ways to make your email marketing campaign shine. Following these 5 steps will transform your email performance among educators. Imagine, 20% higher open rates with only 5 easy steps.
It's not a fantasy, let's dive right in and start improving your open rate today!
1.Streamline Your Subject Lines
As your subscribers browse their inboxes daily they scan the subject lines and preview text, quickly deleting undesirable communications. In that moment, your wording makes all the difference between being deleted or opened.
Subject Line 101
Be brief for the best results.
Catchy and memorable subjects get the best open rate.
Example: "How to improve reading skills"
Avoid trigger-words like "free, enter to win, $." Never type in all caps!
Example: "Win FREE Ipads for your classroom!"
Try asking a question to evoke curiosity by your recipients.
Then, answer the question in the email body. This technique leads with something your reader can learn or gain to give them an advantage over their peers.
Example: "What does a data-driven classroom look like?"
Promise a gift, interesting picture or other tantalizing offers.
You can get your subscribers attention with an offer for a competition, gift or some other reward for opening the email. Avoid trigger words in your offers.
Example: "Technology grants for classroom tablets"
Say something silly, strange or unusual to grab your reader's attention.
This tactic takes into consideration the multitude of boring emails educators filter every day. Making your message interesting or odd might be your way in the door.
Example: "Be a part of March Weirdness!"
Offer a valuable asset to your target customers.
Knowledge which can make an educator outshine their peers is a great go-to. Use your K-12 personas to understand what information, training or technology can he best serve your target audience.
Example: "Let's do the math to reduce your deferred maintenance"
Offer a solution to a common issue which plagues your ideal customer. Focus on your K-12 persona to pinpoint the best approach for teachers, principals and superintendents.
Example: "Reduce discipline referrals and preempt violence in your school"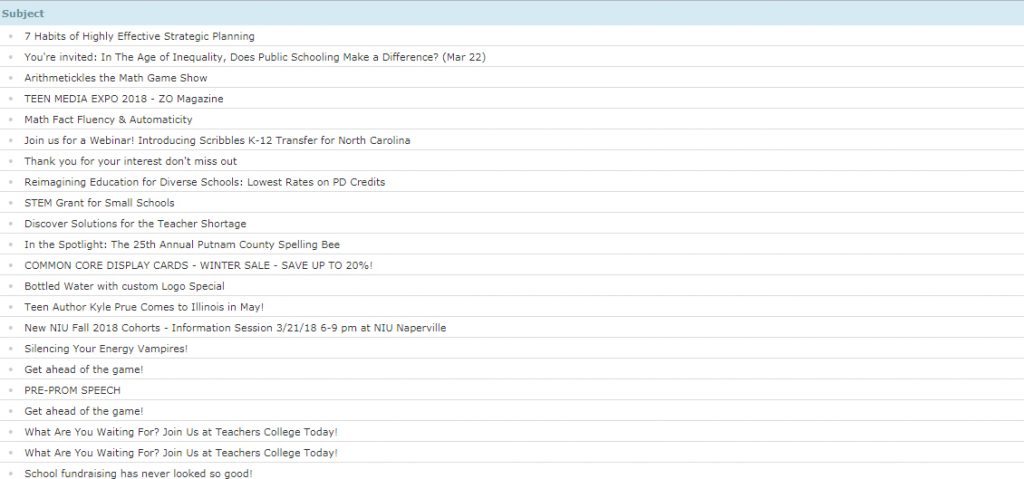 Preheader Text Do's and Dont's
The preheader or preview text is a short summary of your email. It shows below the subject line as your recipients are browsing their inboxes. Preheaders are an essential asset to any email marketing campaign.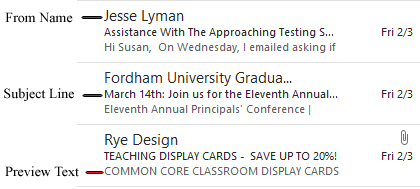 Do
Give hints to your email contents

Encourage your audience to open the email

Spellcheck
Don't
Type in all caps

Spam bait

Leave it blank

Pro tip: Principals are more likely to open emails which take a humorous, personal, emotional or local-minded approach. Construct your subject and preview to entice your customers to read more.
Example: "Texas charter schools- Urgent update"
2. Target Multiple K-12 Personas
Each school district has individuals in charge of purchasing at different levels. Administrators and teachers each have their own priorities and goals. When principals see an email obviously targeted at the superintendent, they delete it. No need to waste time on something which isn't intended for them.
Remember that ISPs are monitoring email activity. Sending too many emails at once can harm your overall return. Additionally, keeping your email list clean will prevent your IP from being blacklisted by your client's email servers.
Pro Tip: Instead of sending 40,000 emails every Tuesday, send 5,000 emails every day. Small batches directed at each demographic or K-12 persona will always garner better open rates than mass emails. Always have different K-12 Personas and different messaging for each persona.
Keep it Clean
Regularly remove invalid emails and unsubscribed clients from your lists. Repeatedly sending emails to bad addresses or violating unsubscription terms will only cause your IP to be blacklisted. A clean email subscription list will automatically give you better returns.
3. Personalize Your Content
While it may seem easier to send the exact same email to your entire list, that won't get you a higher open rate. Targeting your client needs and habits is much more successful. Use these simple strategies to personalize your content.
Embed your recipient names for an eye-catching subject line.
Example: "Henry, enjoy smarter classroom integration today"
Choose your sender name carefully.
Unrecognizable names, like John Smith, are likely to get your email relegated to the spam folder. However, a well-known CEO or guru can get higher open rates. If you want to personalize your sender name, but aren't well known, try a combination.
Example: "John Smith, EdTech Inc CEO"
Another option is to make your company name feel friendlier. Try adding some details or a fun title.
Example: "Your local Book Depot Team" or "Science Life Weekly Insider"
Offer value which will encourage your clients to act. Using your developed K-12 personas try to target the needs of your recipients. Offer them information, education or tools which will help them surpass their peers or make their job easier.
Example: "Win a 3D printer for your school!"
Format your wording as a conversation, not a sales pitch. Write your emails like you are addressing a familiar client or professional friend. Don't depend on the content to sell your product. Use your message to drive clients to your website landing page or gain personal meetings with potential buyers.
Keep it short and simple. Your entire email should be read within 30 seconds. Don't overwhelm your subscribers with too much information. Always lead with the valuable content.
Give your clients actionable steps. Tell them what to do and use active verbs to encourage them.
Example: "Register today to win an Ipad" or "Schedule a meeting to evaluate your tech needs"
Focus on your intended reader, how can you help them? Each K-12 persona has different goals and values. You need to segment your campaign to target the needs of each demographic and type of client.
Thank your readers for their time. Always be genuine and grateful that your subscribers read your content.
Pro Tip: Your entire email should be read in 30 seconds or less. Lead with valuable information or offers, don't bury the lead.
Formatting Your Content
The words you say are just as important as how you say them. Make sure your emails are easy to read and attractive to busy school personnel. Teachers, principals and superintendents don't have time to waste on convoluted emails.
Bullet points

read easier than paragraphs. This is especially true for smartphones and tablets. Give your readers concise information, arranged for optimal delivery.

Deliver a message

, don't sell yourself or your product. Your emails purpose is to create a call to action which can bring customers to you. Each email needs to have strategy in place for what you want to achieve.

End with a call to action

. What do you want them to consume, visit or do? Ask your recipients to visit a webpage, review a product or collect a reward.

Use action verbs

. Words like

download, register

and

visit

work great to encourage calls to action.

Modify messaging techniques

depending on K-12 personas and demographics.

Pro tip: Always conduct A/B testing before sending your final copy. Double check for spelling errors and make sure you are targeting your clients needs or preferences.
4. Time Your Email Campaigns
Try not to overwhelm your subscriber list. Sending too many emails of low value will only cause people to unsubscribe. Each K-12 persona has different needs, schedules and motivations.
Pro tip: Thursdays and Tuesdays are the optimal days to reach principals and superintendents. Send emails while your clients are in the office, from 6 am to 5 pm. For time-sensitive communications, target 10 am to 11 am.

Emails targeting teachers should be sent later in the day to avoid getting buried in a full inbox. Teachers do most operational work after school or on planning days.
5. Optimize for Mobile
While HTML campaigns may seem flashier and more fun, they rarely yield good open rates. Most people check their inbox on a phone or tablet, so be mindful of download speeds and email size.
While text-based content may seem boring, it actually performs better than HTML. This is because text emails average 10 to 18 kilobytes while HTML emails can reach 300 or more kilobytes. The flashy photos and graphics found in promotional emails cause the size to skyrocket. And, the increased size can be a red flag for many spam filters.
Most of your subscribers will check their email on a tablet or phone. Ensure that your templates work seamlessly on all devices to avoid aggravated customers. You don't want to have a user unsubscribe because of illegible content once you got them to open your email.
Pro tip: Text-based emails perform better than HTML. Make all templates mobile responsive and optimize them for all devices.
Everyday Principals and superintendents delete emails without reading them. If you want your content to reach them, you need to implement these five steps for email success. A few simple adjustments to your marketing development can yield up to 20% higher open rates with educators.
In the highly competitive field of educational technology and production, every advantage needs to be exploited. So, stop wasting your time with sloppy email campaigns and start getting return from your efforts.
Remember
…
Streamline, target, personalize, time and optimize your emails for 20% higher open rates.