Download The K-12 Persona Template: 5 Simple Steps to Uncovering Your Ideal K-12 Buyer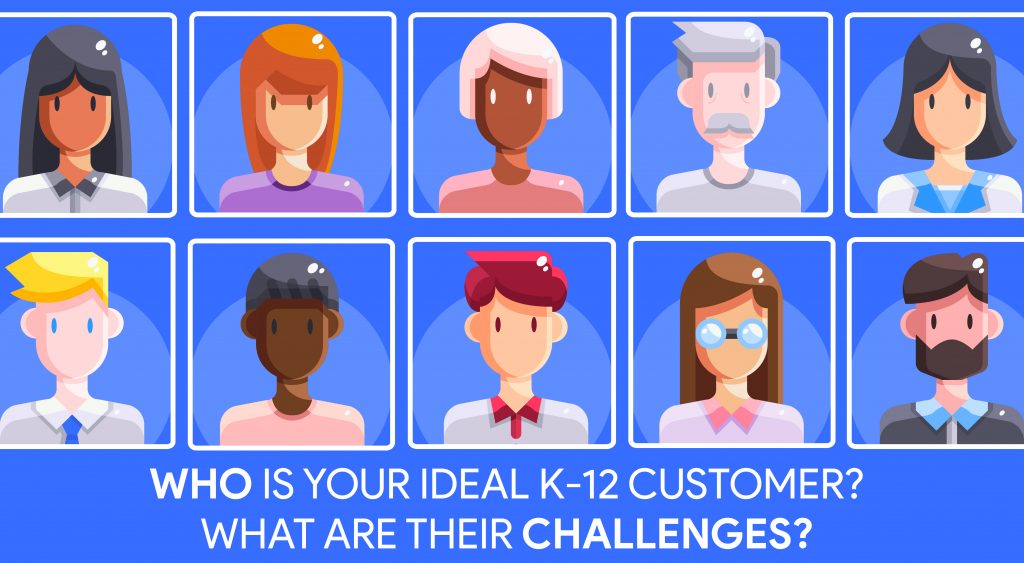 While each school district has its own unique aspects, they all follow a similar structure. To improve the buyer/seller relationship with key decision-makers you must understand the anatomy of each district. Creating detailed K12 personas for each customer within the districts can reveal your ideal customer and how to navigate the system for optimal results.
In just a second we will explain how to create a K-12 persona. By the end, you will have a downloadable template for one K-12 persona and an excel worksheet where you will be able to organize multiple personas.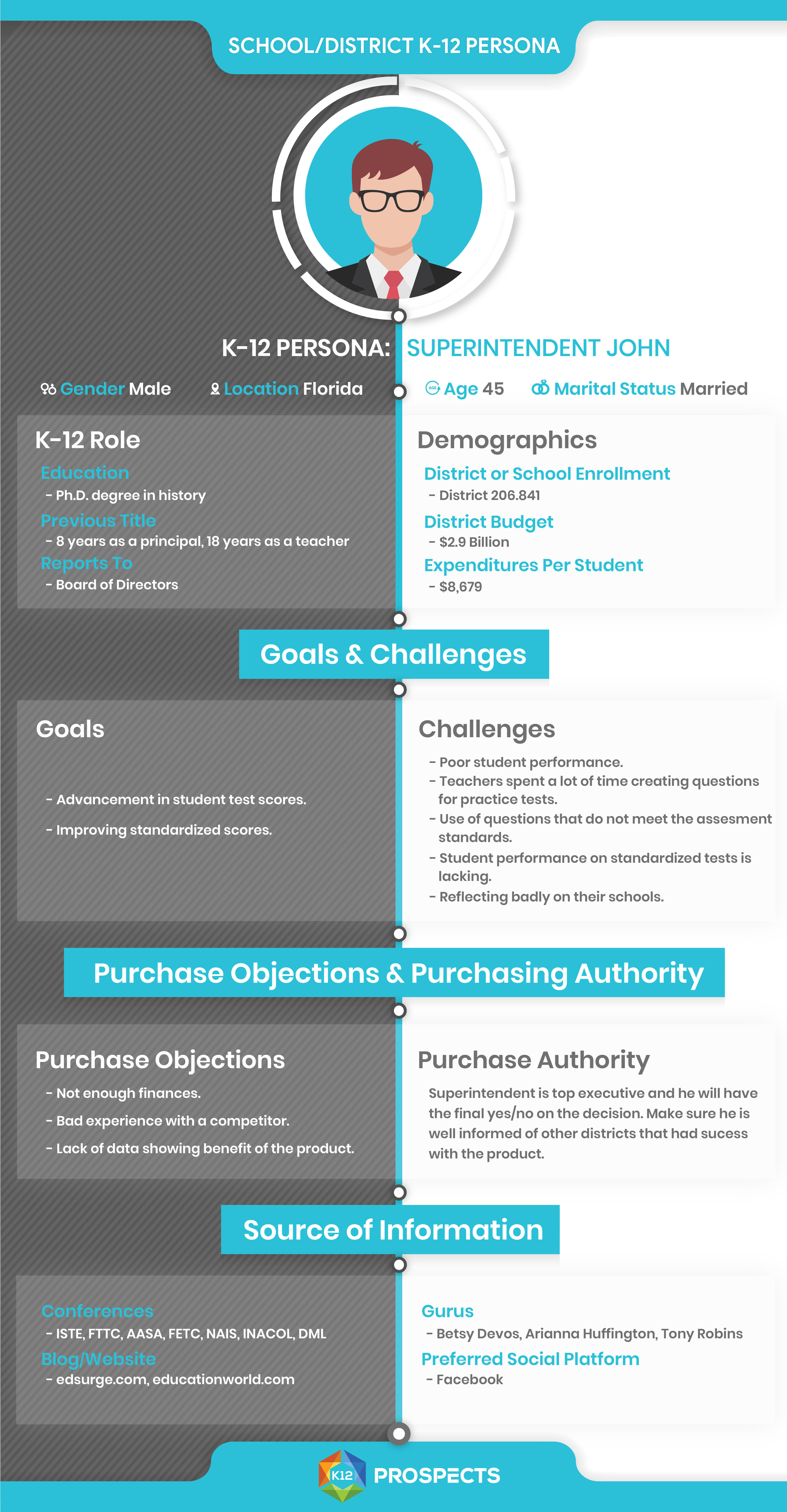 What is a K-12 Persona?
A K-12 persona is a semi-fictional representation of your ideal customer based on both market research and real data about your existing customers.
To market a product or service properly, the first thing you must do is familiarize yourself with who your ideal customer is, where they are hanging out and what their challenges are…"
Why do you need K-12 personas?
Buyer personas help you understand what a prospective customer needs, in order to create content, messaging and product development specifically for them.
Let's imagine that you know your targeted buyers are the school principals, but do you know what their specific interests and needs are? Do you know what their challenges and goals are?
Creating a K-12 persona would give you perspective about the various purchasing challenges that teachers, principals and superintendents encounter. That insight will enable you to offer them tailor-made solutions for each situation by creating content, emails, landing and sales page which targets real buyer objections.
How to Create Your K-12 Personas?
While each company will have different data needed to target the right people for their products, the basics of developing a buyer persona are universal. If your business model requires interaction with multiple levels of the district hierarchy, you will need multiple personas.
Different criteria influence teachers, curriculum coordinators, curriculum directors, principals and superintendents. Discerning the challenges for each contact point can help your sales staff prepare convincing content to promote your products or services.
Getting to Know the Roles
Start with the role of the K-12 persona, including their job title and education level achieved. Next, list their previous positions. A superintendent, may have been principal for 8 years and a teacher for 10 years before that.
Also, include who this person reports to, and if it is a principal whether he reports to the superintendent or maybe to the area superintendent.Make a note of the chain of command, this will give you a clear picture of the district hierarchy you need to involve in your messaging process.
Demographics and School/District Enrollment
Enrollment numbers will give you an overview of the district size. A district with 206,841 students may have 250 schools, equalling a larger district than one with the same number of students spread across 125 schools.
In this example there is more opportunity for products sold to each school in the district. However, products where the pricing is determined based on student enrollment will have the same remuneration in either circumstance..
The district budget will give you information on the purchasing power of your contacts and give you insight into the allotted expenditures per student.
| | |
| --- | --- |
| Number of Schools | 250 |
| Students Enrolled | 206,841 |
| Budget | $2,845,761,000 |
Client demographics are always critical in any business environment. Keeping track of this information can help you get into the head of your ideal customer.

Compiling demographic data will help you determine who you're dealing with and how your messaging and content should be structured. You can also use marketing strategies effective for specific age groups in your campaign.
| | |
| --- | --- |
| Gender | Female or Male |
| Age | 45 |
| Location | Tampa, Florida |
Understanding Goals and Challenges
This section is particularly vital to drive new product and service developments within your company. It also plays a key part in determining the optimal content development strategies to attract your ideal customer.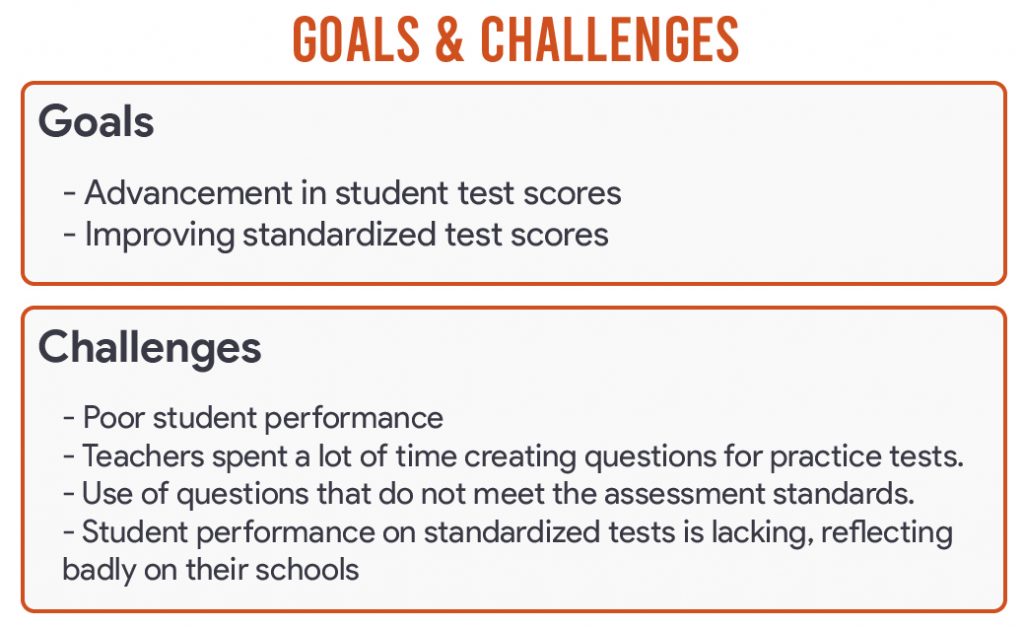 For example, when a company offering progress testing sells a  formative assessment item bank to schools and districts salespeople need to know the challenges and pain points which can be targeted in a tactical marketing plan. This knowledge allows them to build proactive content around customer needs for their email marketing message.
Imagine this same company supplies a bank of questions which teachers can use to create periodic practice tests for yearly exams. This model allows teachers to evaluate class progress throughout the year, pinpoint problem subjects and focus on bolstering student preparation in their weak areas.
Challenges:
Teachers spent a lot of time creating questions for practice tests.

Teachers use or create questions that do not meet the assessment standards.

Teachers have limited time and cannot create practice tests often enough.
Student performance on standardized tests is lacking, reflecting badly on their schools.
Knowing the common challenges will give you an idea of the daily struggle and lead to the development of new products and features.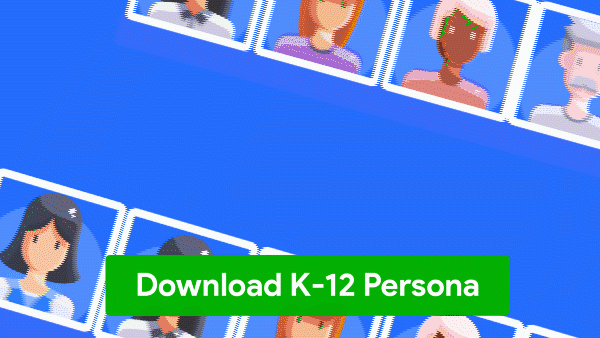 Overcoming Purchase Objections and Embracing Decision-making Authority
Objections are the reasons a potential customer gives for not purchasing your product or services.
You must address common objections in your marketing campaign to get your foot in the door with possible buyers.
When selling an online curriculum platform you should consider the objections of the school IT director. The IT director may assume the platform will require time-consuming setup.

A great headline to combat that objection would be, "Setup your classroom in less than 5 minutes."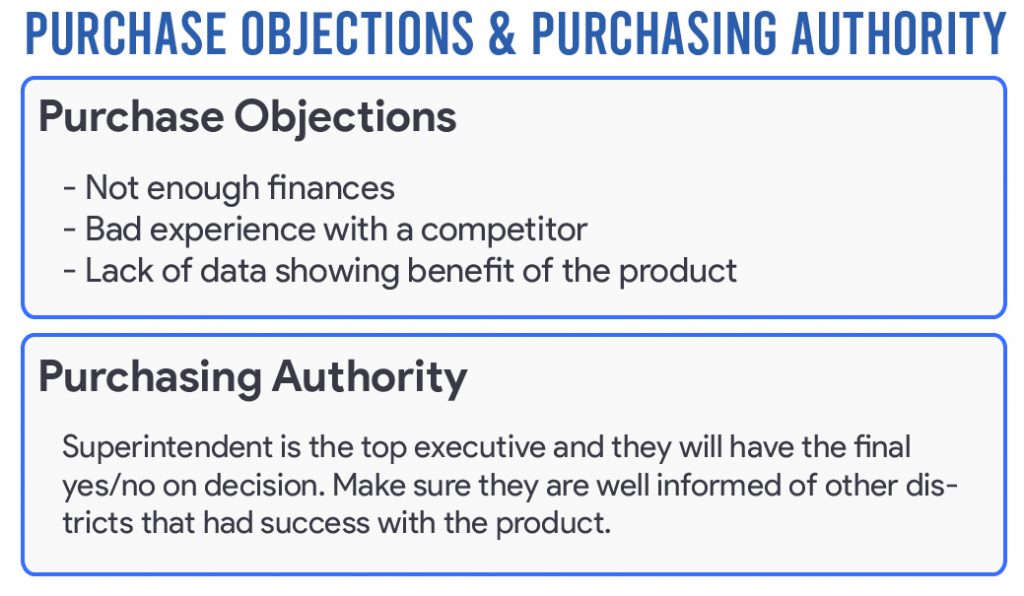 You also need to determine their role in the school/district purchasing process. Are they the decision-maker or decision influencer?

Source of Information
To reach your ideal customer you need to target where they get trusted information. Your K-12 Persona can help you pinpoint the best places to advertise and which marketing strategies to employ.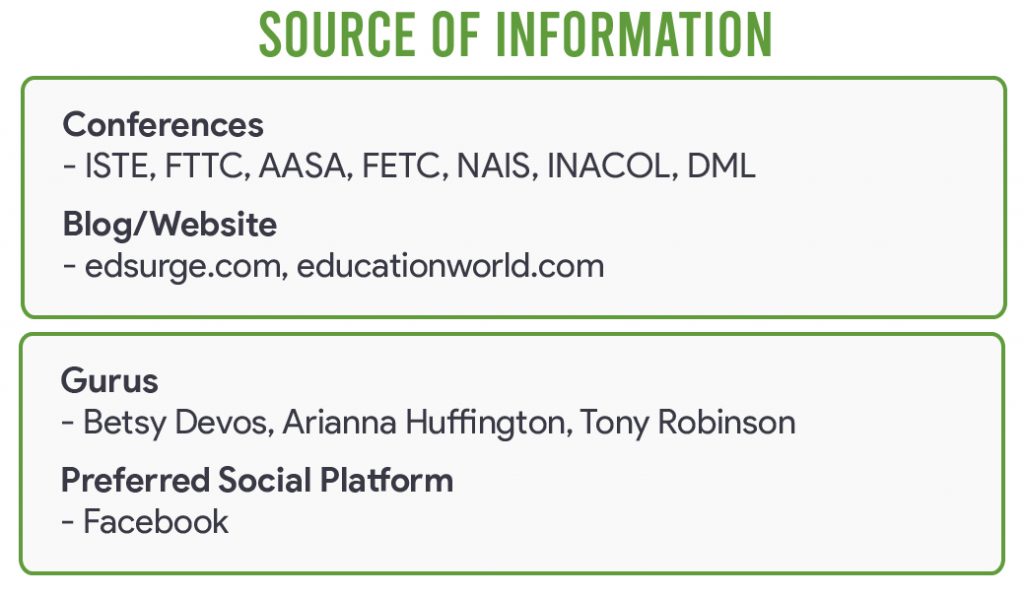 Common Information Sources:
My K-12 Persona would visit Conferences like (FTC, ISTE)

My K-12 Persona reads Blogs/websites like (edsurge.com)

My K-12 Persona follows Gurus like (Simon Sinek, Betsy Devos)

My K-12 Persona likes Magazines like (NPR Education)

My K-12 Persona Primary Social Media Platform is (Facebook, Twitter, etc)
Knowing which social media platform is preferred by your ideal client allows you to create targeted remarketing strategies. You can convey specific messages which use data collected from your customers visits to your website. This advertising trick enables you to give your customers what they're looking for through the power of social media.
Why You Should Build Multiple K-12 Personas
Each point of contact within the district has different objections, challenges to overcome, budget concerns and purchasing power. Some products can be presented directly to teachers with wide success. Others need approval from the superintendent before they can be agreed upon.
Begin by building one K-12 Persona. You will see how easy and beneficial the process is for your marketing team. Once you are comfortable with the results from your first persona, make a different profile for each level of buying power you need to target.
Gathering Information for Your K-12 Persona
Finding information to describe a persona can be done by looking at the social media profiles of current clients.
Linkedin

Twitter

Facebook

Other social media platforms
Online searches can yield a wealth of valuable information about your customers. Take note of their personal demographics, who they follow, what they like, what topics they discuss and any other pertinent data.
You can also learn about your clients through passive conversation. Be friendly and engaging with potential and existing customers alike.
Creating a K-12 Persona can help you develop your marketing campaign to reach the right people in the education system. Even the most innovative products can be overlooked if they're being advertised to the wrong people.
Don't make the common mistake of sending out the same bland mailers to all your district contacts. Instead, use your K-12 Personas to investigate the needs of each level in the district hierarchy. Develop a marketing campaign that can catch the attention of the right person.