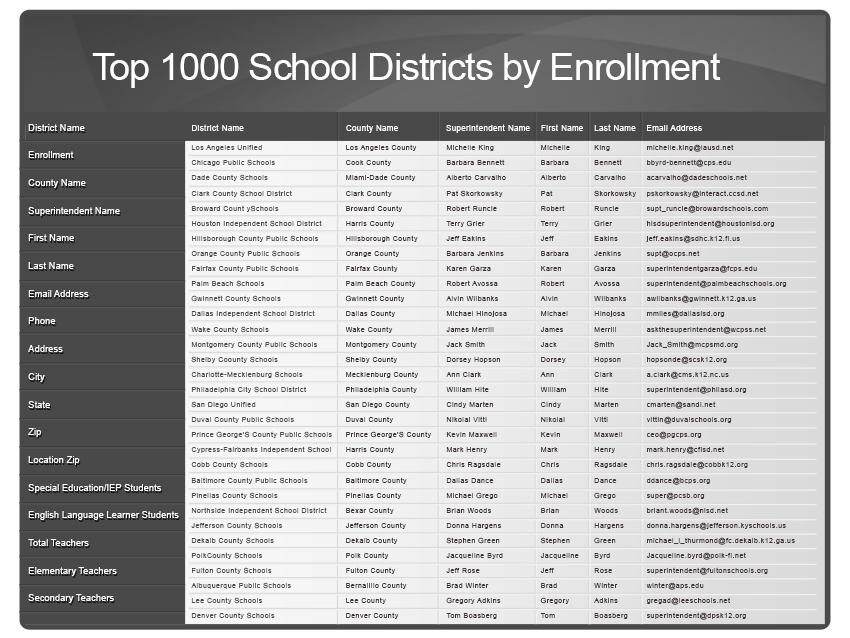 School District Database – Email list of Superintendents
District superintendents email list compiled by K12Prospects is a high quality and industry leading email list of all district administrators. We list every school district nationwide and offer detail segmentation and filtration to bring detailed reports and excellent data targeting.
K12Prospects compiled the school district superintendents email list with targeted data points, so every professional marketer and sales team can have a great overview on the K-12 education market.
We not only deliver names, addresses and emails, but also have high-end statistical and educational email data with enrollments, district size, denomination, number of schools in a district, budgets and expenditures. Information like how much the district spends on food, textbooks, transportation and salaries can help you determine their purchasing power and have an overview of their budget.
Customization and further segmentation of our superintendents email data is available. We can create custom reports that can give you an overview of the largest school districts, by number of schools, enrollment, budgets, demographics, Title I, etc.
Discover our email sending services for district superintendents and district personnel. If you need experts to organize and take care of selling to schools and email deployment, contact our account associates for more information on the process and pricing.
District Name
Superintendent Name
Superintendent Email
District Address
Phone and Fax
County
School Districts by Enrollment
Total Number of Schools
Sorting by Metropolitan Area
Total Students per grade
Total Expenditures
Total Budget
Title I Budget
Expenditures Food
Expenditures Textbooks
Expenditures Transportation
Expenditures Salaries