Education email lists of public, private, charter and catholic school email data
K12Prospects has created the largest and most accurate compilation of education school data. We list every elementary, middle and high school nationwide, which is what makes our principals email list so desirable by both large and medium scale businesses needing K12 email lists. A top priority for every customer is high quality data, which we accomplish by screening our lists, providing weekly updates and a final update before the data is delivered.
Contact our account managers for detailed information (800) 829-8560
K12Prospects provides high quality K-12 school principals email lists with detailed segmentation and many filter options. Our data is consistent and has all the public, private, charter and catholic schools nationwide.
Whether you're only in need of a particular school (public/private/charter) or customizable data of all school principals in a certain district, filtering by any of our criteria is easily accomplished. We offer an array of criteria that our data can be sorted by including, but not limited to, districts or radius, demographics, enrollment, grades, budget, Title I eligibility and teachers employed.
There is no order too small or too large – we let you pick your school administrators list the way you wish to handle it. You can purchase a list of principals and export them by your needs, whenever you need them. All our principals marketing data is exported in excel format .csv or .xls, for easy importing to any contact management platform.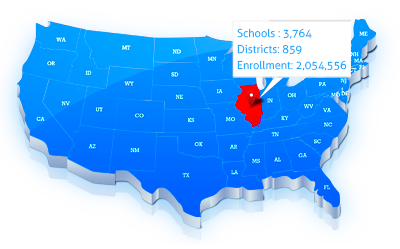 Public school principals
Charter school principals
Private school principals
Catholic school principals
Other Schools
Magnet schools
Alternative Education Schools
Special Education Schools
Vocational Schools
School principals list by Grade Level – Elementary, middle and high
Elementary Schools Email List
Depending on the school institution you need (public, charter, private or catholic school), we can segment and filter to only the elementary principals email list. Even though some of the elementary schools have custom grades, by default every elementary school is kindergarten through 6th grade. We can customize and create email lists that have custom grades, enrollment numbers and use demographics to sort out to specific criteria.
Middle Schools Email List
The middle schools list tends to only include grades 7 and 8. Some older schools might still use the term "junior high", but as of this time, most customers are using the middle school principals email list to conduct their work. We can customize any grade, school type, or location per your request.
High Schools Email List
Our high school principals list contains email addresses of all high school principals grades 9 through 12. They are also known as "senior high" and it can be customized and filtered so we can make a more targeted list of all high school principals.