Content Marketing Strategy to Educators- 3 stage journey that district and school decision-makers needs to go through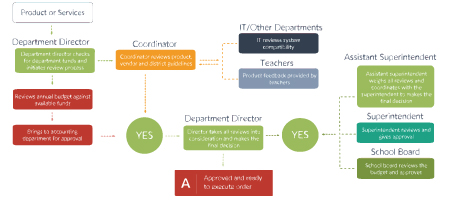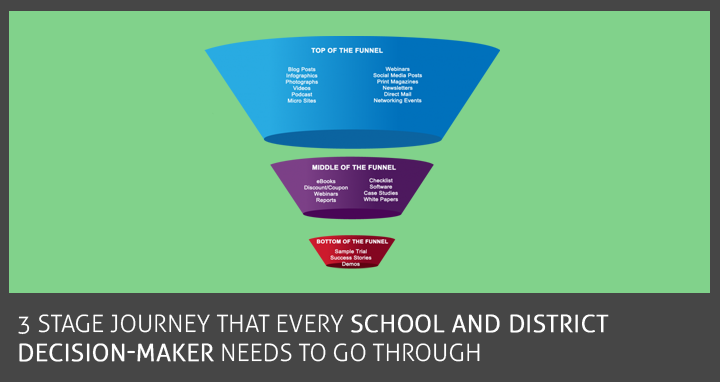 You've got a great idea. You've got a revolutionary product. You've got your prospect's contact information. Then why is it so hard to turn those prospects into customers?
The Marketing Funnel is a solution to better understand how to turn school and district prospects into actual customers.
Creating useful, engaging and even inspiring content can be the difference between successfully converting a lead into a customer or falling short.
In order for a prospect to become a customer, there are 3 stages that they need to go through:

Awareness (Top of The Funnel) – Prospect must become aware that they have a problem and that your company has the perfect solution! Here is where, with the use of blog posts via email, we make them aware of their problem.
Evaluation (Middle of The Funnel) – Those prospects who realized that they have a problem and have moved from the awareness stage to the evaluation stage are now looking for various solutions to their problem. Here is where you can take the opportunity to interject with a free resource which explains that you have the resolution to their problem.
Conversion (Bottom of The Funnel) – The ones that move through the evaluation stage are now trying to decide who will they purchase from; will it be You or your Competition?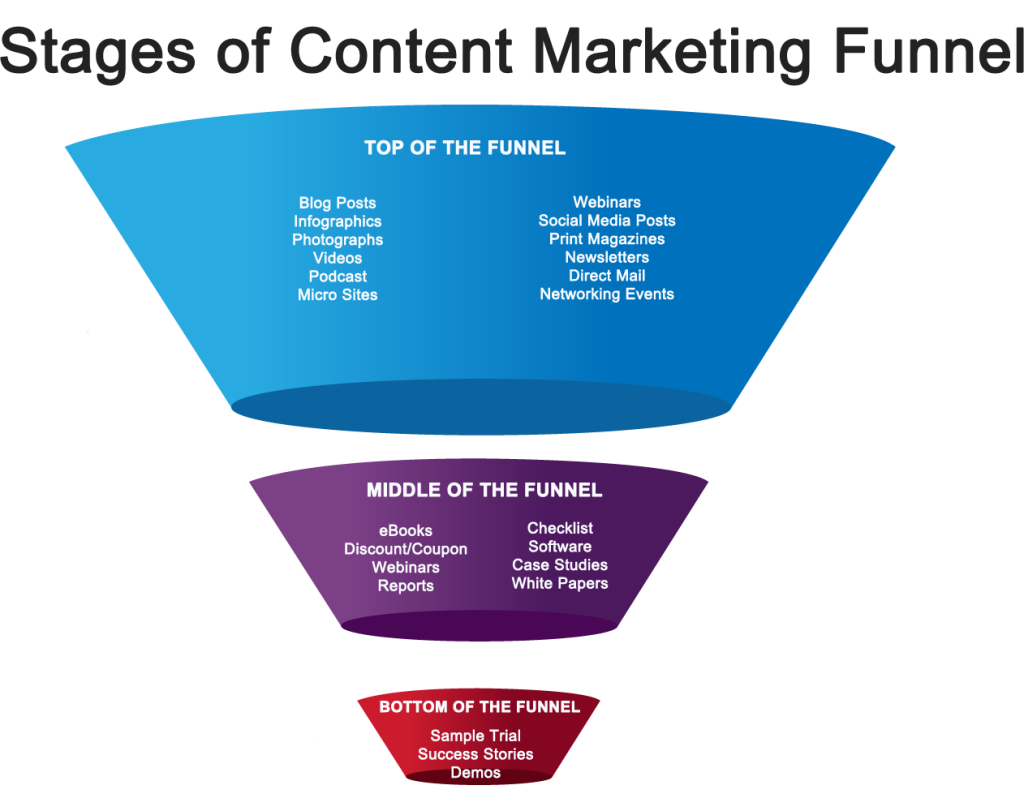 Top of The Funnel – Awareness Stage
Awareness is the most elevated stage of the marketing funnel where you need to point out an obvious problem. The superintendent or principal as prospects entering the top of your funnel are completely unaware of your solution and, often, completely unaware of their problem.
As a result, you will need an easily discoverable and readable content such as: 

Blog Posts

Infographic Content

Photographs

Videos

Audio Podcast

Microsites

Webinars

Social Media Posts

Print Magazines/Newsletters

Direct Mail

Networking Events
You don't need to use all of the content types above at the beginning, but start with a few and once you master them slowly add more.

Now that you know what kind of content types you can use, you need to decide how you will deliver this content in the eyes of principals, superintendents and department directors.
Chances are very low that they will just go and find your blog online, or search exactly for your video or infographics.

The best delivery method and mostly used at the lowest cost is Email.
Email marketing is one of the most effective methods for generating new leads. Preferably using it as the main tool, your marketing efforts will be much more successful if you integrate email marketing automation into as many campaign channels as you can.
Use email campaigns to deliver your latest blog post, podcast, webinar or infographic to the principal, superintendent or another district decision-maker.
Don't forget the goal at this stage is to make them problem aware and solution aware, not to sell them. Also, different messaging needs to be used for each district title as principals have different goals and challenges than the superintendent or curriculum director.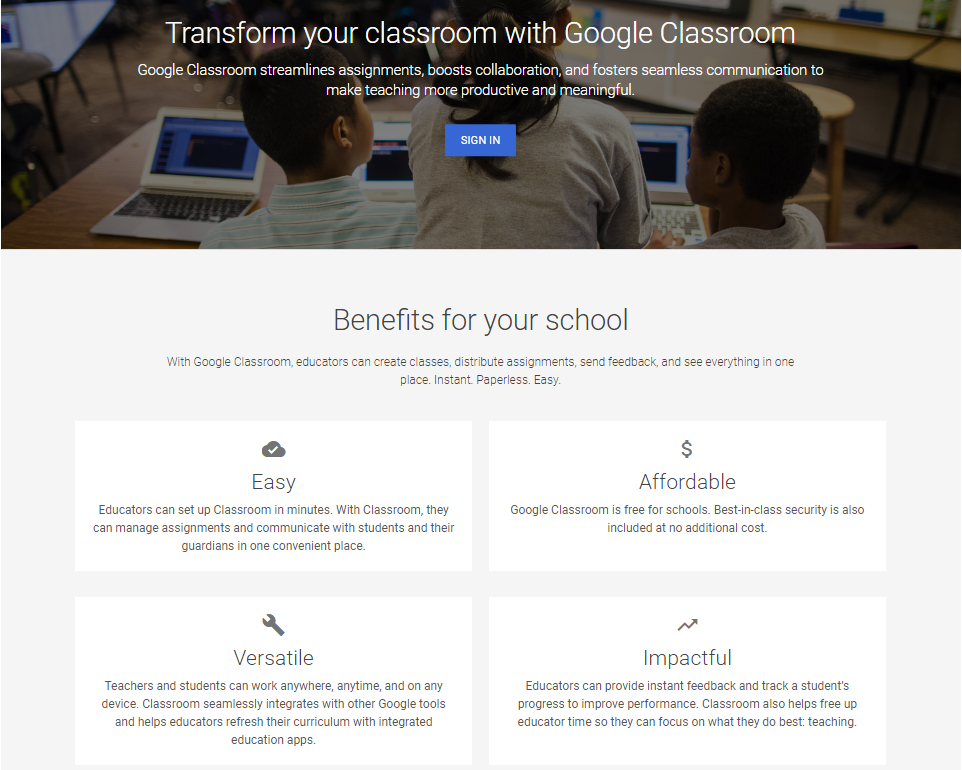 This is how Google for Education makes educators aware of a potential problem and provides a solution. Instead of keeping paper documentation, student tasks are all in one place digitally and can be managed from anywhere. Converting to an all-digital format also makes it easier to provide and track feedback while keeping everyone organized.
Middle of the Funnel – Evaluation (Becoming a lead)
Our main goal in the middle of the funnel is to convert the prospect into a lead.
At the previous stage, we already made them aware that they have a problem and that we have the solution. The next step will be to give them something that will show them the solution to the problem, which we do by implementing free content delivery in return of their contact information where they can opt-in to receive additional emails and information.
This type of content is also known as Lead Magnet.
Some lead magnets can be:
Checklist

Software Download

Case Studies

White Papers

eBooks

Discount/Coupon Clubs

Webinars

Research Reports
These are all your content assets that must be strategized and presented to your leads at the consideration stage.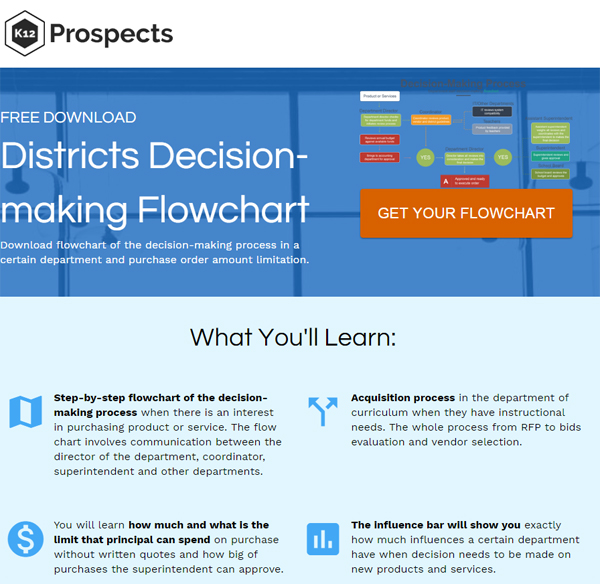 This is a lead magnet that we use at K12Prospects to generate leads for our product which is email data of principals, superintendents and other district personnel.
This piece of content gives a solution to the companies interested in selling to schools or districts and explains what is the purchasing process in a particular department.
In order for them to sell effectively, they need to know what titles are in that department, who does the decisions and how the whole flowchart works.
Bottom of the Funnel – Turning Prospect Into Customer
Having completed some initial research about you and read through a few blog posts that you posted, your prospects will now move to the conversion stage where they become customers.
At this stage what will be incentivized by your solution will keep them moving through the funnel, so we must ensure all questions are answered, and all answers are discoverable.
Often at the same time, leads have become aware of a number of potential solutions offered by a host of companies by downloading lead magnets or reading blogs.
What types of content will your new lead need to make an informed purchase decision?
Some can be:
Customer Testimonials

Events

Webinars

Sample Trial

Success stories

Customer Stories

Demos

Free Trials

Comparison sheets
Once they've collected all their information, they start measuring up all their options. They start putting the solution from your business against your competitor's offerings. Now they are in the process of Conversion.
You need the right content at this stage to make the potential customer convinced that you are the right choice for them.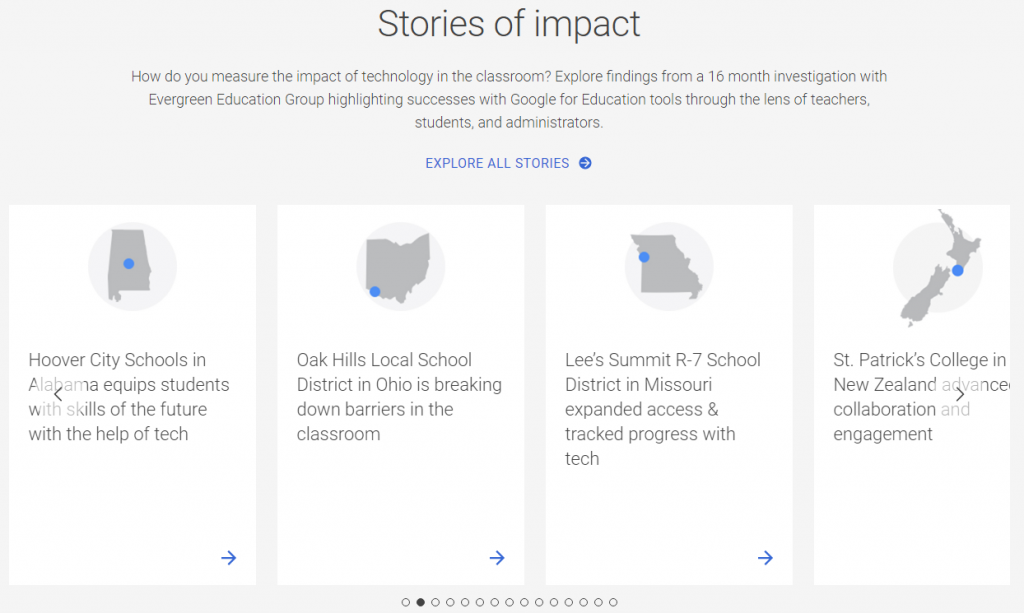 Posting success stories can have a great resource for the bottom of the funnel. Here is an example of several success stories from Google for Education on how a few districts are breaking down barriers in the classroom and tracking progress with technology after they implemented the product. This will be a great way to show to schools or districts around the area where you acquired a customer, as well as being reassuring when a prospect realizes their neighboring school or district is using your product.
To execute all this perfectly, you also need to understand that you cannot use the same messaging when addressing the superintendent versus the curriculum director or coordinator.
They all care about different things and they all have different goals and challenges, so in order to do that, you will need to understand their buying personas.
Note: Don't know who your ideal K-12 customer is? Here is a step by step guide on how to find who is your ideal K-12 Customer.
(RESOURCE: Before you start presenting your products and services to school and district officials, you need to know who is in the decision-making process and who makes the final call.)