Good, Better, Best It Is All About An Effective A/B Marketing Test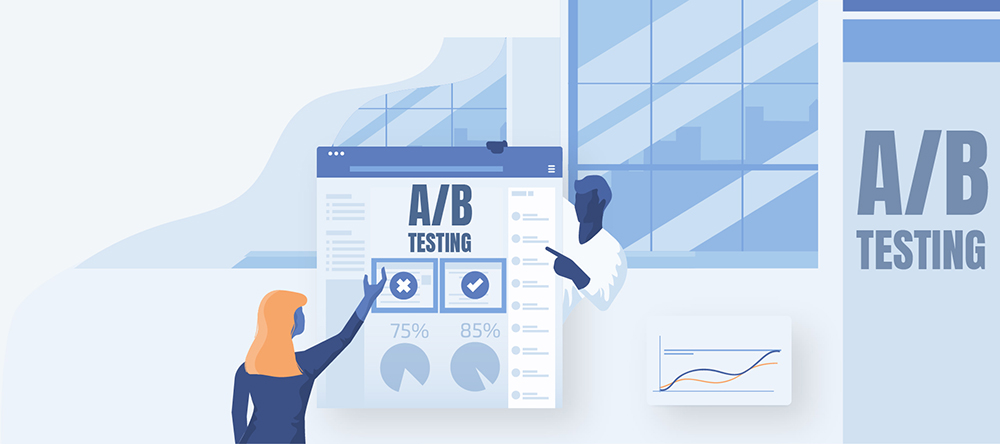 What Is E-Mail Marketing?
To gain best leverage in e-mail marketing will mean establishing a relationship with your clients by focusing on the following three objectives in an e-mail marketing campaign:
Gaining client / customer trust in you and your firm

. An effective e-mail marketing campaign works from an established list of clients, gives value, provides clear and concise subject lines, and relevant content showing understanding to the needs of client.

'Touching Base.'

Keep in mind your goal is to make your client

want

to get in touch

with you

. This means developing a strong 'call-to-action' within your e-mail communication.

 

Build Upon Your Established Subscriber List.

'Make new friends but keep the old, one is silver and the other gold.' A good thought, as per the Girl Scouts of America,

and

any sales rep 

who wants to retain an established subscriber list of loyal clients, increase engagement of client purchasing, and grow that list of loyal customers.
What Is An A/B Marketing Test?
An A/B Marketing Test, by official definition, is that of comparing two versions of subject line, web content, ads, landing pages, or as is the intent of this article, comparing two variations of e-mail marketing communication to determine which version brings about 'best' conversion rate, click-trough's, and open rate.
A/B Marketing Tests bring you to a greater knowledge of your existing customers, how to better serve their needs so as to retain them as customers, and better utilize your marketing budget as you measure and engage with those successful click-trough's, conversions, and open rates of your e-mail subscribers.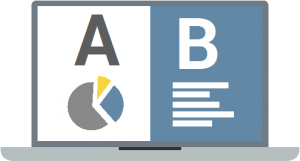 The A/B Testing Process
The first step of the process in performing an A/B Marketing Test is, logically, to know what you want to test of your e-mail campaign. Logical, but not always common knowledge. Anything can be tested in an A/B test:
headline content and typestyle,

the actual content of the e-mail words written as well as the typestyle used,
the layout of the content,
different types of 'calls to action,'
HTML or plain text in your email,
best day and time of day to send your e-mail communication,
the most effective subject line that brings about more 'open rates'
which is how many on your subscriber list open and read that e-mail communication you worked so hard in composing.
Anything having to do with effective business communication can be tested.
What you choose depends on your specific business goal when composing your business communication: a better Conversion rate, the completion of a call-to-action of your customer, Click-through rate which is how many subscribers take action to click the links of your e-mail marketing copy that bring them to view your offers, sales discounts, website and website blog, or the all-important Open Rate, the percent of your e-mail marketing list that actually opens your e-mail to read it.
You can test each item individually. For example: to test the results of subject line copy using two variations of the subject line, you could run a single test but split the test to two groups of randomly selected persons on your established client e-mail list. If you had three subject lines you wanted to test, it is perfectly acceptable to split your groups to three groups, rather than run three tests: A vs B vs C.
Running more than one test item at a time, such as a call to action test and subject line test is a multivariant test and takes considerably more time to run and analyze results.
How A/B Tests Can Improve Your E-Mail Campaign
To perform an effective A/B Marketing Test that results in effective e-mail marketing campaigns requires the analyzing of the collected data of the needs and preferences of the particular 'business' that you wish to sell your product or service to. Specifically, this blog article is focused on the 'business' of the K-12 public school system. K12Prospects has done the bulk of the heavy lifting and 'digging' into preferences of district decision makers; gathering such data of every school district in America for more than a decade and compiling that data to extensive e-mail subscriber lists that will assist any sales rep in getting their 'foot in the right door' that needs their particular product or service! A 'juicy' idea that brings any good sales rep to 'drool.'
Analyzing Results
When the A/B marketing tests have been completed — it is time to analyze that collective data. There are few different categories to decide the performance of the test:
Open rate

Click-through rate

Conversion rate (when they visit your website)
Each test needs to have a unique goal. If you are trying to increase email open rate, be sure to test the subject line and open-rate data. If you are trying to test your Call to Action (CTA) to increase subscriptions or people clicking to visit your website, than it's the click-through rate. The conversion-rate test works with a combination of email and web-analytic metrics. It will give you the ability to test whether the A or B version of the email increases your reader's traffic and subscription, for example, 10% or 20%. In this case, the second version increased your subscription 100% from the first version.