Why Follow-Up is Critical in K-12 Public Schools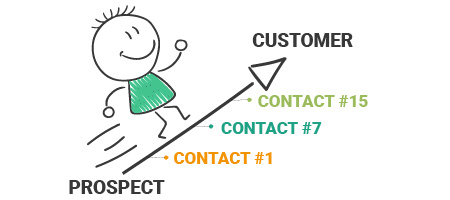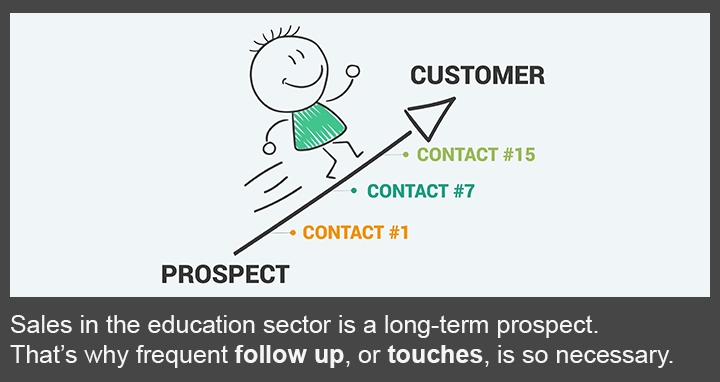 Marketing to schools is about building relationships. The best partnerships happen over a long period of time, with both buyer and seller working to understand what the school and students need, then finding a way to meet that need.
Before marketing to a school administrator, curriculum coordinator, or other stakeholders in the education system, it is important to set your own expectations. Building a rapport will require a lot of touches, or follow-ups, on your part. This is not because the buyer is not interested, but rather because their needs are constantly evolving. Many companies give up and move on after only 2-4 touches; but those who are persistent will be there when the school is ready to move forward with a purchase.
Who do you sell to?
Start by finding out who has the authority to make purchase decisions as well as who influences with their knowledge and experience. If you are providing curriculum, a curriculum coordinator or director is a good person to start communicating with to get an idea of what the school needs. If you work with security, a security director or administrator will be a worthwhile contact. Each school will have a directory available to help you make the right contacts.
If you aren't sure who to contact, create multiple customer profiles so that you are prepared. The questions a curriculum coordinator has will be different than those asked by a district administrator. Be ready to develop multiple relationships, as this increases your chances of connecting with the right person.
You should realize that the final purchase approval often lies with the top leadership of the school or district. Make sure that you are connecting with the Superintendent, Assistant Superintendent, and Principal. They may direct you to a lower-level stakeholder who is an expert on the ins and outs of that program to go over details. They will take the recommendation of that expert, along with the rapport they have with you, into account when making the decision to purchase.
How many times you should follow up?
This can be one of the most difficult aspects of sales. Follow up too little and the potential buyer forgets about what you are offering. Follow up too much and they start to tune out what you are saying. In the education world, consistent follow-ups are more important as the needs and budget of a school change frequently. A good rule-of-thumb is to follow up every week or two, for up to 12-15 touches to get to a sale.
The graphic above shows the impact that frequent follow up can have on your sales. If, like most people, you give up before your fourth touch, you may miss out of valuable future sales. If you are able to establish ongoing relationships, find out what the school needs, and be at the top of their mind when they are ready to buy, you have a much higher probability of that contact resulting in a long-term partnership.
When you contact a potential customer, make sure to include how what you are selling can help them. Because you have invested time into getting to know them and their school, you know exactly what their needs are and how you can add value. Reference your previous contact with higher-level leaders or experts in that particular field when you follow up. This helps them put your email into context and see that you are invested in the success of their school.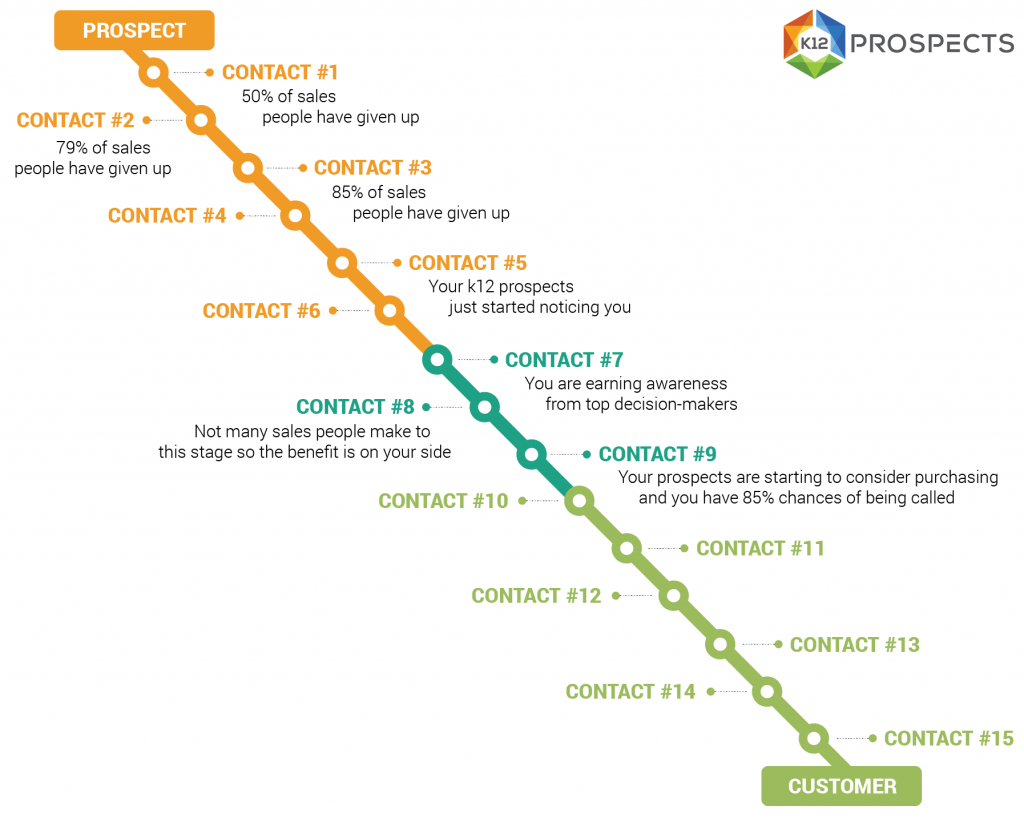 Always have Updated Data
The decision-makers, such as program directors and administrators, can change frequently. In a single school year, up to 35% of faculty and staff turnover. Providing a history of data and performance can help them see the potential long-term results of their purchase. This includes the correct contact information, as even things as simple as emails can change during the course of building a successful customer relationship.
The education world loves data. They want to know that their limited budgets are being spent on things that produce increased outcomes for their schools and students. Make sure that you have the correct data for both the school that you are marketing to as well as the product or service you are selling. Updated data is the fuel that powers your income machine.
We would like to teach our readers that in education world it takes more than a regular times to get a sale. It is hard but once they are there is a long lasting relationship. At the end we want to let them know that having updated data, and data from decision makers and influencers is very important. (because we sell that data it can be like a secret advertisement for us) Not too strong of a pitch but to mention that data is very important.