Top decision making officials in school districts – Surveyed vendors and district staff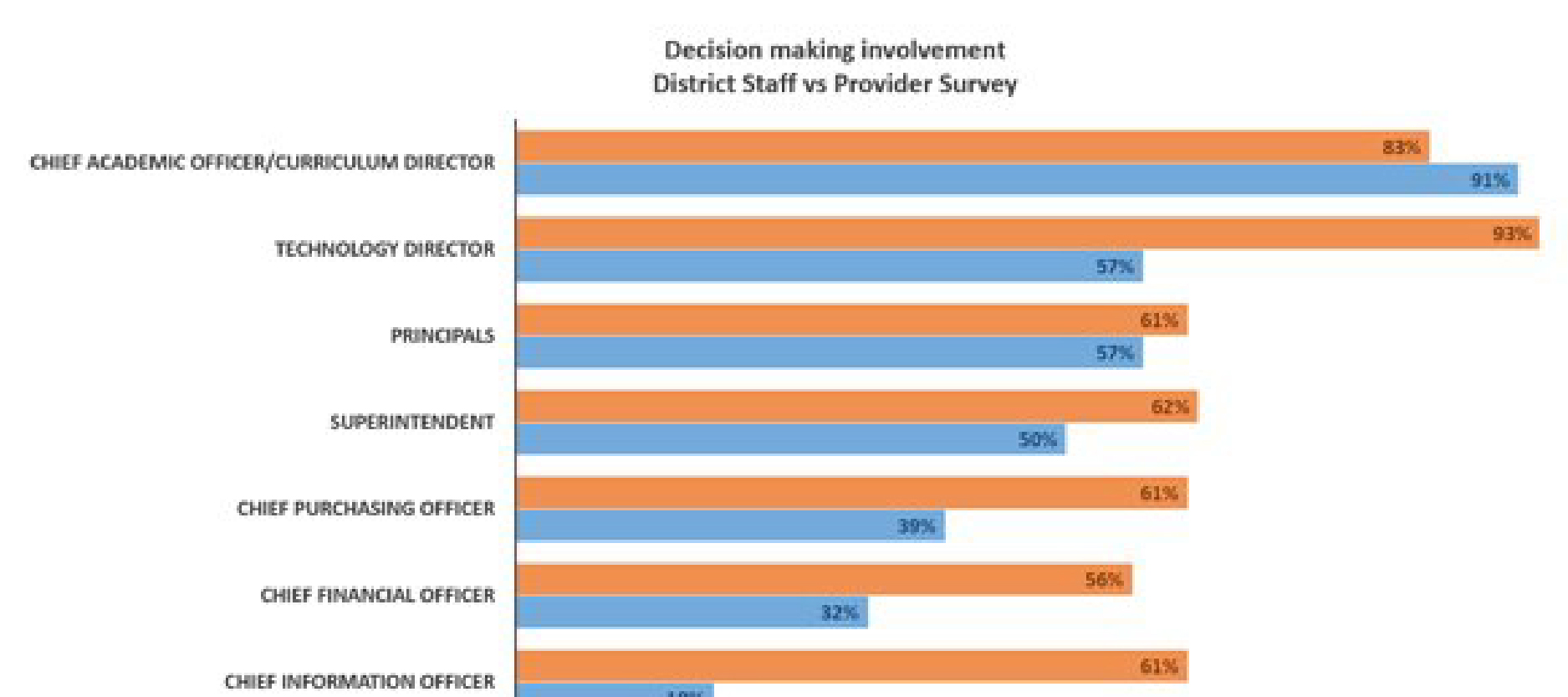 One of the most challenging tasks in selling products to school systems is determining the prime target. The prime targets should be those who have the most influence and involvement in decisions regarding new purchases. So who are those individuals exactly?
Studies show that 83% of districts officials surveyed believe that the following have the strongest involvement in decision-making processes:
Superintendent
Assistant superintendent
Curriculum directors
Principals
Providers(vendors) agree to the same that 91% of involvement comes from a chief academic officer and assistant superintendents/curriculum directors.
Some more top influencer's according to providers include:
Principals: 57%
Educational Technology Directors: 57%
For more information regarding the involvement of decisions look at the chart below: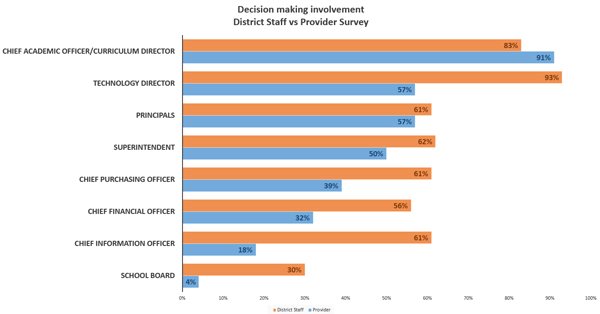 Based on the chart below, there seems to be a disagreement regarding the involvement of certain administrators according to both the providers and districts. For example, according to providers 57% providers agreed that technology directors had an immense impact on decision compared to 93% of school district officials. There is a very clear gap between the opinion of school district officials and providers. Another clear example is the difference in percentages regarding the involvement of chief information officers (61% compared to 18%).
The GAP
So what's the reason behind such a big gap? One explanation clarifies that the district officials focus on the decision-making process from start to finish.
Therefore, assistant superintendents, curriculum directors, IT directors are the main ones who are doing the research and giving their input.
Communication
District superintendents agree that the learning technology products on the market are overwhelming. In addition, they believe that the most challenging factor in purchasing learning products is being able to find resources and reviews about certain products.
Therefore, they prefer to be contacted:
Email 95%
Phone 2%
Mail 2%
Institution visit 1%
Email is the best form of communicating products to school districts. Email marketing allows the reader to have easy and quick access to the product information and resources.
nal call.)