The $50 Billion Back-to-School Market Is Coming Up: Are You Ready?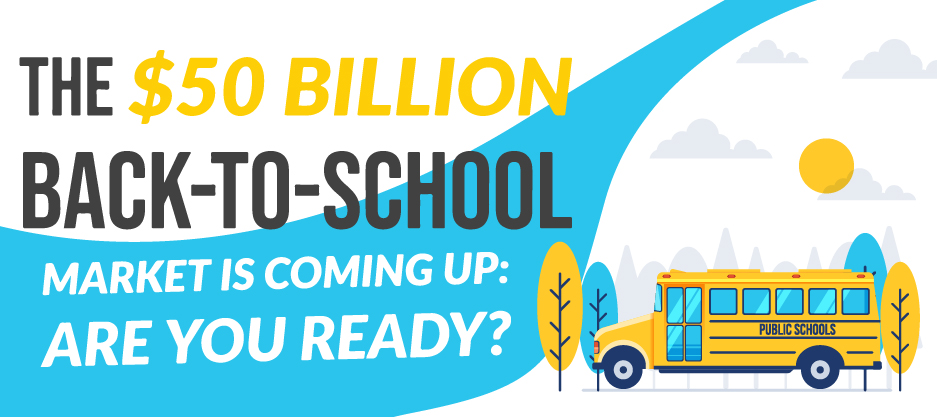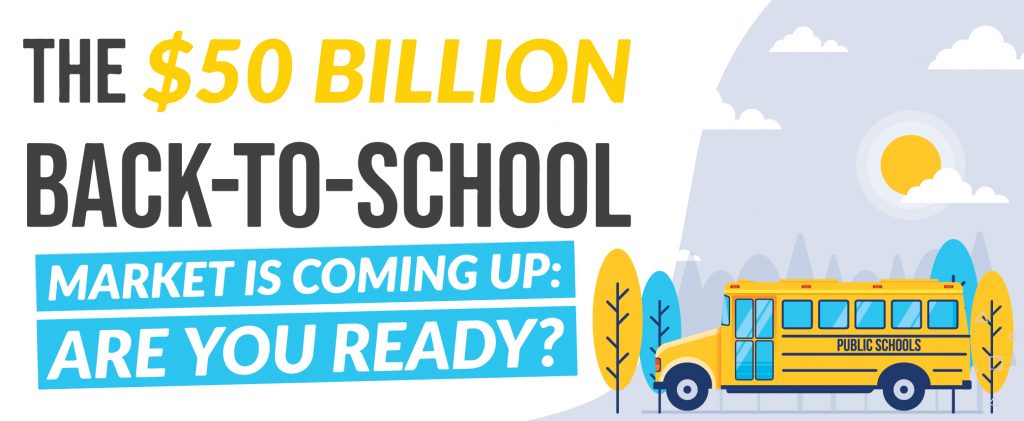 The back-to-school season is a busy time for education marketers and K-12 businesses alike. In fact, this is the most important time of the entire year. After Christmas time, this is the second-largest consumer spending season all year long.
The back-to-school season starts in June and continues until September since most schools begin again in August or September. Tapping into this market is a great way to increase brand awareness and encourage sales. Is your K-12 business leveraging this season to its advantage? In this guide, we'll explore why this is the most important season for your businesses as well as the best strategies to get your brand noticed.
---
The Back-to-School Season by the Numbers
First, let's look at some of the stats behind the back-to-school shopping season. According to Fortune's' 2019 report on this time of year, spending is expected to reach at least $52.96 billion this back-to-school season. This estimate is on par with last year's spending, but there are still some key changes to keep in mind.
Primarily, spending will focus on areas like tech, clothing, backpacks, and school supplies. In addition, 56% of parents shop in stores compared to online. However, parents are looking online to help make their purchase decisions. They're also tuned into the school's recommendations. Many school systems and educators recommend specific brands, and this is your opportunity to shine.
Parents are getting their insight about brands and products through different channels such as online, in-person stores, and school recommendations. That means we're in a new era of omni-channel marketing. This is good news seeing as how shoppers who follow an omni-channel path to purchase are likely to spend 3.5 times more than other shoppers. Knowing these numbers behind the back-to-school season can help you make smarter decisions.
---
How Can You Target Schools During the Back-to-School Season?
How do you make an impact during this competitive season? It's true that a lot of brands are competing for the same attention of students, parents, teachers, and school officials. Knowing all of this, how do you stand out?
First, realize that it's very much a digital world. Even though only 26% of parents are shopping online for the back-to-school season, these shoppers are still influenced by digital marketing. The key thing here is to start early. As you've likely seen, many brands are already tapping into this excitement. The earlier you start, the more momentum you can build.
Next, consider offering discounts. Parents and schools alike are looking to save during this time of year. If you can offer a special back-to-school promotion or incentive, this is a great way to encourage sales and partnerships with schools.
In addition, don't forget about networking. School leaders, officials, and even teachers are the ones who create those coveted supply lists and make recommendations for school and classroom supplies. You need to connect with these individuals if you want to be noticed.
---
Using Email Marketing to Connect with School Leaders
The most effective way to connect with those important school leaders is through email marketing. Right now is when schools are currently preparing for the next school year. Most districts aren't too busy during this time of year, making it the prime time to make connections.
Email marketing is a powerful tool. For every $1 you spend on email marketing, you can expect an average return of $32. For schools in particular, you have so much potential to build real relationships that translate to sales.
When creating your email campaigns, it pays to be personal. Personalized subjects generate an average of 50% higher open rates, so knowing who you're talking to will increase your conversions tremendously. In addition, ensure you're contacting the right leaders at each school. You don't have time to waste making the wrong connections, so utilize accurate school district data.
Finally, don't forget to plan in-person meetings to seal the deal. In the age of digital marketing, it's still important to talk face-to-face or over the phone. Summer vacation is the ideal time to plan these meetings since school officials and teachers will have more time to dedicate to brand relationships.
---
Turn Back-to-School Into More Sales
Now is the time to create your own marketing strategy for tapping into this $50 billion time of year. School leaders and teachers are preparing for the next school year right now. They're getting together supply lists, preparing product recommendations, and connecting with businesses. Is your brand one of them?
If you're marketing to K-12 schools, you can't afford not to take advantage of this time of year. It's time to put these ideas into action to make this your most successful season yet.
---