K-12 Email Marketing Elements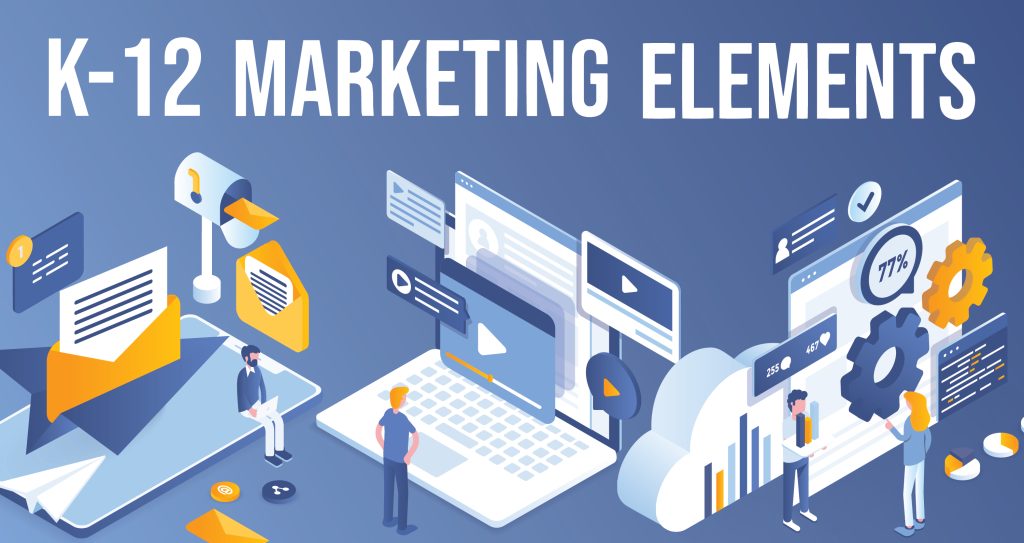 Email Marketing
Despite what you might have heard, email marketing is not dead. It's alive and thriving, and these businesses above prove just that. Over 93% of B2B marketers use email to distribute their content. However, if you're slapping together a monthly newsletter or sharing your most recent updates and clicking send, you've probably noticed your open rate plummet.
Email is evolving, just like the rest of digital marketing.
Email now needs to exist as an extension of your content marketing strategy. Simply put, you need to offer value with your emails. If you're simply self-serving in your strategy, you'll come across as salesy and pushy. Nothing turns a lead cold faster than sounding like a sales pitch robot.

Since we don't want that, let's talk about some of the basics of successful email marketing. You can't run a successful email campaign without the following:
Knowing your audience – Who are you emailing? You'll phrase your emails much differently if you email administrators compared to teachers. You want to position yourself in your prospect's shoes.
Identify your audience's pain points – Everyone has a pain point. What about your audience? What problems do they need solved? More importantly, how does your product solve this problem?
Goal oriented – Your emails need to feature some kind of end-goal. What do you want your users to do next? Read your latest content, make a sale, or contact a representative?
Lead magnet – Finally, you need to attract your users with something of value. People won't hand over their email address if there's nothing in it for them. For instance, Samsung offers a downloadable guide to getting funding for your educational technology. This has value to the audience and solves a pain point all at once.

Now that you see how email has changed today, you're in a position to make a stronger impact with your own strategy. If you don't know what you're doing, no email will get you there.
---
Video Storytelling
Marketers have been using written content to tell stories since the dawn of the internet, but video is emerging as the shiny new object on everyone's minds. According to Aberdeen Group research, video marketers get 66% more qualified leads per year. What makes video so powerful? First, it's face-to-face. Reading a testimonial is powerful, but it's not nearly as powerful as seeing those feelings play out on a customer's face for yourself.
Video intimidates a lot of marketers. It's scary to ask your best clients to appear on video for your marketing efforts. However, this is a type of virtual referral that works. People trust other people. That's why reviews are such a huge part of the online purchase process. When you can transform those reviews into videos, they're suddenly much easier to share.
You can share video stories anywhere. They work great on social media, on your blog, and even your sales page. Even better, they're not nearly as hard to secure as you think. Your best customers are already passionate about you. If you learn how to grab this passion while it's hot, you'll have no trouble securing video testimonials.
You don't need any fancy equipment to get started. There's no need to hire an expert videographer as long as you have a smartphone camera, a tripod, and you know the right questions to ask. The key here to bring out the value of your product in your user. What problems did your business solve? How has their workday changed since they used your product? These are the questions that your prospects want answered.
---
Data-Driven Marketing
Last but not least, you need leads driven by data. If you're not utilizing data to find the best leads, you'll keep falling flat and wasting your company's time. Data-driven marketing sounds complicated, but it simply means you use insights from customers, prospects, and smart data sources in order to deliver targeted messages and increase your own response rate.
From utilizing existing customer data to sourcing high-quality data in your niche, all of these tools need to become a daily reality for your organization. With so much data around us all day every day, how do you know what data is worth your time?
In reality, data can come from just about anywhere. You won't know what matters most to your business until you try, fail, and learn from it. Doing a test campaign is a great way to gain a better understanding from your current prospects.
In the case of email marketing, for example, this could be as simple as A/B testing your messaging. What delivery works best? In addition, you could take this a step further by testing your own outreach campaign. Does contacting administrators prove to be more successful than lower-level educators? The only way to know for sure is to review the results.

Before you start your test campaign, identify some key metrics for measuring success. Here are some of the most important metrics to modern marketers:
Cost of Customer Acquisition – How much does it cost to acquire a new customer? If you're spending $1000 each month on marketing and you gain 100 new customers, your cost is $10 per customer.
Web traffic – How many people are visiting your website?
Social media engagement – Are users engaging with your content on social media?
Website leads – How many people are converting from your website. This might mean converting into customers or into email subscribers.
Email conversion rate – How many email subscribers are turning into customers?

That's all there is to it. Don't be afraid of your data. Make it work for you. If you want to stay competitive, you need to leverage all of the tools at your disposal.
---