K-12 Marketing: Top Company Strategies Revealed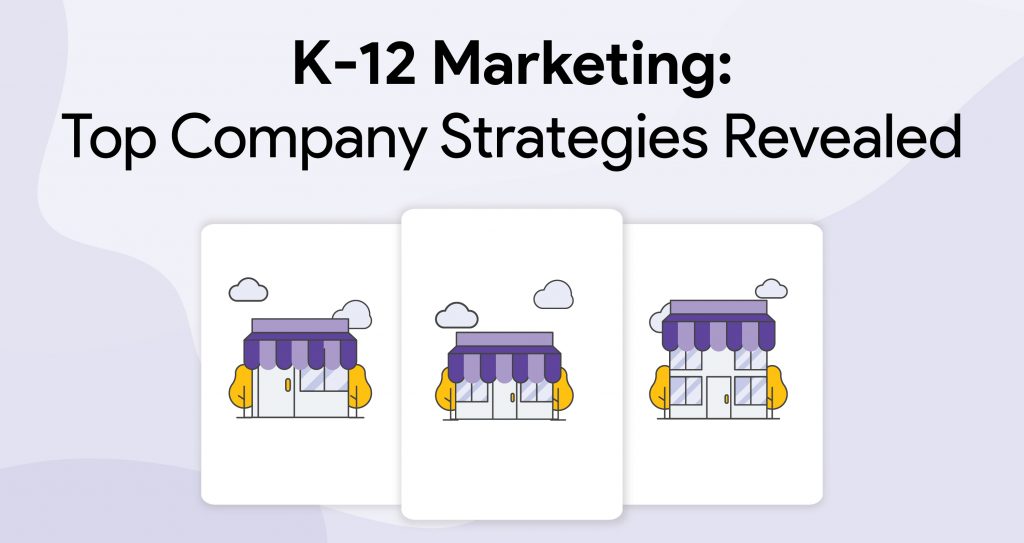 Selling to Schools: 3 Companies to Learn From
The k-12 education industry is increasingly becoming a challenging world to break into. As an education sales company, you need to discover how to carve out a name for yourself in the market. With over $625 billion being spent on public k-12 education in the U.S. each year, this is a growing area for many businesses of all shapes and sizes.
When it comes to building an k-12 education marketing strategy that converts, it pays to learn from those that have already been successful. Taking a closer look at the successful ways other school-focused companies made a name for themselves through their marketing will help you find your own leverage to break new ground.
In this article, we're going to uncover the techniques used by these 3 k-12 education companies:
These companies each bring something different to the table. Some are well-known classroom names while others are still building traction. In this guide, we'll compare what they each have in common with their marketing so you can create your own strategy that sells.
---
1. Blackboard
First, we'll start with the largest, most well-known company of the bunch. Blackboard is a learning management system (LMS) that helps teachers keep their courses organized. Additionally, Blackboard offers online learning modules, making it a popular solution for digital classrooms.
Today, 1 in 2 students in the United States is served by a Blackboard district. That statistic alone is enough to make many smaller companies shake in their boots. However, they've recently been challenged by Canvas, another LMS system that offers cloud-based storage that rivals the ease-of-use of Blackboard. Since then, Blackboard has implemented a competitive pricing strategy to attempt to keep their current clients.
Blackboard Marketing Strategy
Approach schools directly via administrators – Using targeted administrator contact information from a trusted database, Blackboard can make the right contacts quickly without going through multiple lines of communication.
Partner with leading k-12 partner technology – Blackboard features many integrations with programs already being used in schools like Curriculum Pathways, Authentica, and Chalk.
Provide in-person technical support to integrate quickly with schools – By helping with technology integration, Blackboard stands out from the competition.
What can all businesses learn from Blackboard's strategy? The biggest message is that even the top players face competition from newer technology. Second, finding new ways to integration within the education community via targeted connections is key to standing out.
---
2. Samsung
Samsung has been pushing their technology tools for educators for almost a decade now. Today, they have a variety of devices designed specifically to be used in the classroom within k-12 institutions.
Samsung is a household name, and that certainly helps them gain an advantage over newer device manufacturers and tech companies. However, their name can only take them so far, especially when they're not well-known within the education sector.
Samsung Marketing Strategy
Use lead magnets to increase awareness – Samsung offers a variety of downloadable lead magnets to build their email list. They cover topics like Chromebook learning and funding classroom technology.
Partnering with industry leaders – Like Blackboard, Samsung connects with industry leaders like Pearson and Tidebreak to gain authority in their industry.
Provide affordable student discount programs – By offering discount programs specifically for teachers, schools, and students, Samsung positions itself in a positive light.
What can we learn from Samsung's strategy? The biggest takeaway is that email marketing is a powerful tool, especially when using the right lead magnets to source quality leads. In addition, focusing on making the process simpler and more affordable for schools will increase your campaign's success.
---
3. Torsh
Torsh is the smallest of the 3 companies we're looking at today. This business provides video-based and in-person classroom observation tools. The platform itself strives to make it easier for educators to observe and collaborate with other teachers.
Torsh proves that you don't need a large business to be successful in the education sector. A niche education product like Torsh has a place in this economy, but its success relies solely on its marketing strategy.
Torsh Marketing Strategy
Create and share video testimonials – Video testimonials highlight engaging, emotional stories from successful education clients.
Educational blog featuring new trends – The education trends blog helps administrators identify ways to help their teachers grow.
Encourage email signups on social media – By being present on LinkedIn, Facebook, and beyond, Torsh encourages interested users to sign up to their email list where these leads can be nurtured.
What can we learn from Torsh? First, video is quickly becoming an effective way to build a relationship with your audience. In addition, email is a necessary part of any content marketing strategy. This is a winning combination.
---
Final Thoughts
As you can see, there was a lot of overlap in the strategies of the 3 companies we examined above. Though all of these companies offered unique products and services, they each had similarities in how they connected with leaders in the education industry.
Something we can all agree on is that this sector is evolving rapidly. The strategies that were guaranteed in the past aren't guaranteed to work tomorrow. It's essential for marketers to learn the winning strategies of the future so they can hit the ground running with their marketing today.
---