3 Strategies the K-12 Marketing Pros Use to Get More Leads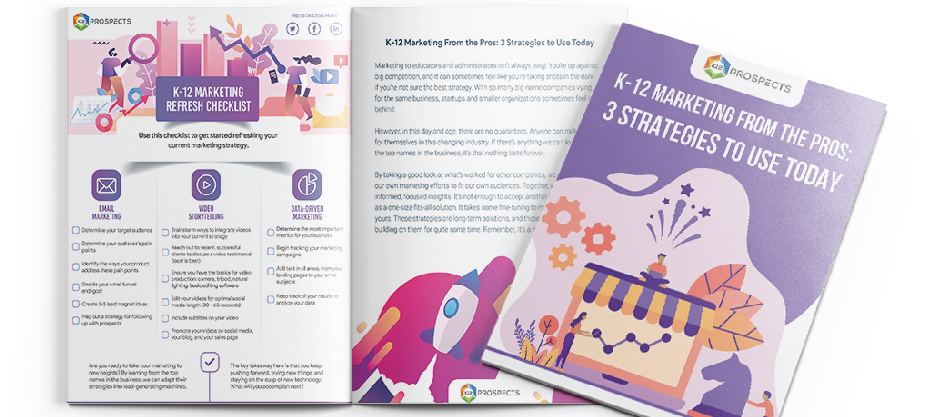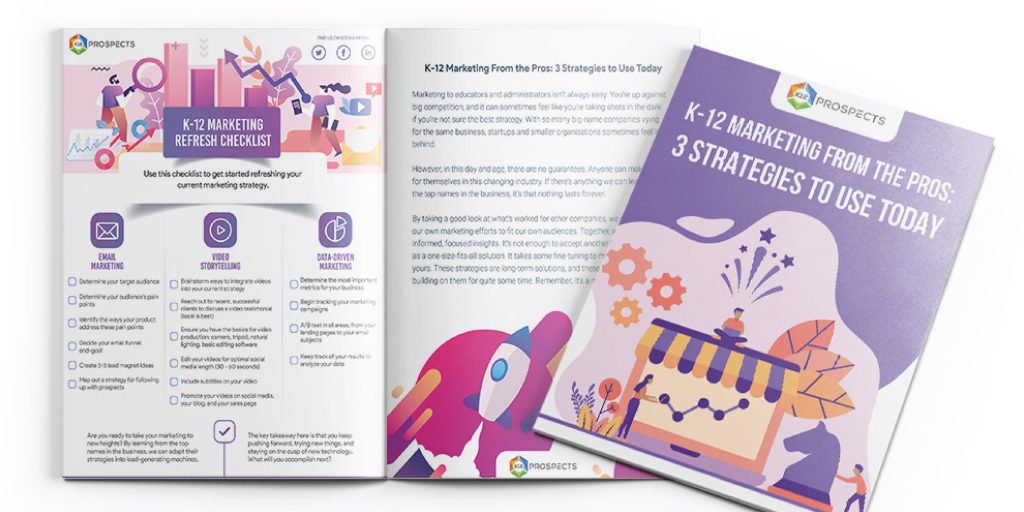 K-12 Marketing From the Pros: 3 Strategies to Use Today
Marketing to educators and administrators isn't always easy. You're up against big competition, and it can sometimes feel like you're taking shots in the dark if you're not sure the best strategy. With so many big-name companies vying for the same business, startups and smaller organizations sometimes feel left behind.
However, in this day and age, there are no guarantees. Anyone can make a name for themselves in this changing industry. If there's anything we can learn from the top names in the business, it's that nothing lasts forever.
By taking a good look at what's worked for other companies, we can revitalize our own marketing efforts to fit our own audiences. Together, we can make informed, focused insights. It's not enough to accept another business' strategy as a one-size-fits-all solution. It takes some fine-tuning to make these ideas yours. These strategies are long-term solutions, and these companies have been building on them for quite some time. Remember, It's a marathon not a sprint.

In this guide, we'll cover the following
The top strategies used by 3 successful k-12 education companies
A breakdown of the most common strategies
The best practices for utilizing these steps in your own business
A checklist for revamping your own marketing

In a world of changing technology and trends, there's no room for comfort. Company's today need to be agile, light on their feet, and ready for the next big thing. There's no guarantee that what works today will keep working tomorrow. We'll cover a range of topics in this guide, and we'll also address what happens when education-focused companies fail to adapt quickly. It's time to grow your own strategy to see results.
---
Marketing Strategies Straight From the Pros
As we said before, these professional marketers don't offer blanket solutions. What works for them is just that: something that works for them. Don't expect any of these ideas to work for you out-of-the-box, so to speak.
However, there's a lot we can learn from examining these winning strategies. These companies have invested both time and money into making these things work. They've failed along the way. By taking a closer look, we can streamline our own marketing growth without succumbing to some of the same problems.
---
Blackboard
Blackboard is nationally known company. It's an LMS (learning management system) platform that makes it simple to bring the classroom online. With features for both teachers and students, Blackboard has become a common sight in both k-12 classrooms and on college campuses. They serve over 100+ million students today, and that makes them a big force to be reckoned with.
While, in the past, coming up against an industry giant would be intimidating, it's not so scary as it sounds. In fact, one company has done just that. Canvas, a cloud-based LMS platform, is giving Blackboard a run for its money in school systems across the globe. What does this mean for the education industry? Mainly, it means nothing is concrete. Even the biggest giants in the industry can meet their match.
Blackboard is a prime example of what happens when a company fails to adapt quickly. There are a lot of technological changes today, especially in education. If you can't keep up, the industry will leave you behind.
Yet, that doesn't mean Blackboard is calling it quits. They've revamped their marketing efforts tenfold to make up for the lost traction thanks to Canvas. They've seen a lot of growth, and their marketing team is to thank for that.

How does Blackboard market to schools?
Video marketing – They share success stories on social media, their blog, and their own sales pages.
Direct selling – By utilizing a data-driven system, they can approach the right administrators at the right time, bypassing any middlemen.
In-person tech support – Their tech support integrations help educators get up and running quickly with their platform.

What can marketers learn from this?
Even the mighty can fall.
Storytelling-driven marketing is especially powerful today.
In-person selling and tech support will always be valuable.
---
Samsung
Another well-known name in the technology industry as well as the education sector is Samsung. Samsung's educational department has been developing tools, devices, and software specifically for educators and students alike. These have made great strides in recent years thanks to Samsung's powerful marketing strategy.
In a world where technology comes and goes, standing out is hard work. Samsung proves that it's possible to break into this industry if you make things easy for educators, many of which don't have a strong technological background, and if you provide the right lead nurture strategy.

How does Samsung market to schools?
Direct marketing – Samsung approaches school administrators directly, working with the top leaders and then moving down the funnel to classroom-based contacts.
Email marketing – Samsung uses an email nurture series to educate institutions about the importance of technology in the classroom.
Lead magnets – By providing lead magnets on a number of topics related to tech tools in the classroom, Samsung shows itself as a natural choice.
Networking – Samsung has partnered with well-known education partners like Pearsons and Tidebreak.
Educational discounts – Finally, Samsung provides discount programs for schools, educators, and students.

What can marketers learn from this?
A dynamic email sales funnel will take your business far.
Educational discounts position you as the best choice.
Direct sales is not a dead strategy.
---
Torsh
Though the smallest, newest company on this list, Torsh is still a force to be reckoned with in its own right. Torsh is a startup that helps educators learn more about the best ways to grow and collaborate with others in their field. This is a new concept, and Torsh is carving its own niche in the education industry.
It's important to not only study the biggest players, but also the supporting roles that are quickly grabbing at the spotlight. If we've learned anything so far, it's that the focus changes fast. The smaller companies finally have a chance to take the limelight.

How does Torsch market to schools?
Video marketing – Torsch creates emotional video testimonials highlighting their customer success stories.
Social sharing – These videos are shared widely on social media platforms like LinkedIn, Facebook, and Twitter, thus appealing to prospects on new platforms.
Educational blog – Torsh runs their own blog sharing the latest trends in education, virtual classrooms, and continued learning for educators.
Email marketing – Social media promotions and video marketing are using to attract leads to their email funnel.

What can marketers learn from this?
Even small businesses stand a chance with the right marketing.
Storytelling is a powerful marketing tool.
Social media can be used in conjunction with email marketing.
---
What Strategies Are Right For You?
Now that we've taken a close look at just what's working for these businesses above, it's time to talk about your own strategy. As we mentioned already, you can't expect any of these above ideas to work for you out-of-the-box. You need to customize them and make them yours. More importantly, you need to be willing to adapt and grow these ideas to suit your own needs.
You might have noticed some overlap in the ideas above. It seems there are some marketing strategies that work more than others. What are the standouts? Video marketing, email marketing, and data-driven marketing all reign supreme.
Some of these are likely to be familiar to you already. As a marketer or business owner, these are terms that you encounter regularly. However, do you know how to translate these from buzzword into real-life, profitable strategy?
---
Are you ready to take your marketing to new heights? By learning from the top names in the business, we can adapt their strategies into lead-generating machines. The key takeaway here is that you keep pushing forward, trying new things, and staying on the cusp of new technology. What will you accomplish next?

---